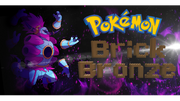 This is the content page of a detailed walkthrough for Pokémon Brick Bronze. The walkthrough is written in a more casual writing style to help players get through the game, especially where the hints for progression of the game is not as obvious or clear. Please be warned that there will be no efforts made to hide any spoilers in the walkthrough. Click on the links below to read the in-depth walkthrough.
All pages in this walkthrough contain major spoilers!
Main Storyline
The chapters in Main Storyline covers the plot before player defeats Roria League.
Post-Game
Post-Game Chapters are mostly for contents after player becomes Roria Champion. Many Legendary and Mythical Pokémon encounters are also put here. Visiting these places and fullfilling these quests are optional to finish the game, but are required if the player is to completely fill their Pokédex.
Extra 1: The Titan Runs? — Frostveil Catacombs, Calcite, Martensite & Dendrite Chambers, Titans' Throng
Extra 2: Silver Wing Secrets — Voltridia, Frigidia, Obsidia Islands & Caverns, Silver Cove
Extra 3: Cooke's Quest — Cooke's Kitchen, Item Searching, Steam Chamber
Community content is available under
CC-BY-SA
unless otherwise noted.