Chapter 1 — Starter Pokémon
Beginning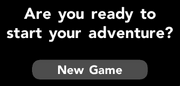 When the game has loaded, the intro plays where the names of Lead and Main Developers are shown, then the game title appears with a silhouette of the game mascot Pokémon behind. Click to enter a screen where — as shown in the photo for beginners, a question of "Are you ready to start your adventure?" along with a big "New Game" button is shown. Press "New Game" to begin your game. For players who have a save file, the question is replaced by a large "Continue" button with a summary of the save file, and the "New Game" button is shrunk to the lower right corner.
Unlike core series games, the game does not begin with a Regional Pokémon Professor introducing himself or herself and asking you some personal questions. Instead, an overview of Route 1 is shown, zooming into your in-game house eventually. Your in-game avatar throws the ringing alarm clock to the wall, but quickly realizes that it is the day when your adventure begins! You will then remember that you still need to fill your Trainer Card first. Type your name and press Enter to confirm. A board of "Attention New Trainers" with a Pikachu then pops up, reminding you to save your game from time to time, and also that neither PVP battles nor trading will be available until you acquire your first Gym Badge. Click the green tick to continue.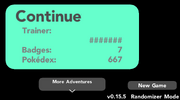 The "Menu" tab is on the left of your screen. It is where you open your bag, read your Trainer Card, fiddle with some options, and most importantly: save the game. Veteran Pokémon Trainers know that Pokémon games do not automatically save on its own, so remember to constantly save your game as what Pikachu just told you to do, instead of complaining when you lose your progress just because you forgot to manually save. Later on, when you get your Pokémon and Pokédex, you can access them through the Menu as well.
Mitis Town
Once you gain control of your avatar, go downstairs and leave your house. Interestingly, if you return to your room after heading down, the alarm clock is mysteriously restored, and back on the table next to your bed. Stepping out of your house, you hear someone calling you — he is Rival Jake, who is your in-game childhood friend. He notifies you that your in-game parents want to see you at the archaeology site first, and he is going to wait for you in the Pokémon Lab. If you go to the Lab right now, he will tell you that the Professor is not here yet. Also, the archaeology site is to the right- You will see it as a cave with torches in the entrance. Go a bit deeper into it and you will see your parents.
This is Mitis Town, which is the in-game hometown of you and Jake. Following the tradition of many starting towns in the core series games, this town is rather small and rural with only a few houses. A bridge over the river leads to Route 1, but since you have no Pokémon right now, if you dare to cross the bridge, a character sitting on the railing will stop you. Talk to the residents and they will tell you many basic information about the game. The house diagonally opposite to yours is Jake's house. His parents will ask you to watch over him.
A passage next to Jake's house leads to the town's archaeology site, where your in-game father and mother are seen sealing off a cave. You overheard their conversation of discovering something dangerous inside and planning to tell that to the new Professor. So the Professor is newly-promoted? Interesting. Anyway, they noticed you and after a brief talk, they head to the Pokémon Lab, so follow them.
Later...
Pokémon Lab
The Pokémon Lab is where beginners choose their Starter Pokémon. Your parents and Jake are seen waiting, while the Professor is finally here. He introduces himself as Professor Cypress, then has a short lecture about Pokémon basics. Next up he instructs you to pick one of the 21 species. You have a wide array of choices here, as all Starter Pokémon from the 7 core series regions are available. Each one has its pros and cons, suiting Trainers of different battle styles. Remember that you have 6 slots in your team, which means you can always catch more Pokémon to cover your Starter Pokémon's weakness, so just choose your favourite or the one that best suits your battle style.
Pokémon
Level
Primary Type
Image
Price
Starter Pokémon
Lv. 5

Grass

First: Free

Additional: 25 Robux each

Fire

Water
Once you got your Starter Pokémon, Cypress gives you the Pokédex and tells you that if you want to get more Starter Pokémon, talk to his assistant David and pay 25 Robux for each. Your father and mother say that they have something to discuss with Cypress first. You can then open the menu to find 2 new buttons: "Pokédex" and "Pokémon". Check your Pokémon's entry and summary with those functions.
1st Rival Battle
Route 1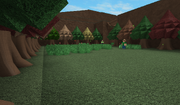 As you leave the town, the character sitting on the bridge's railing wishes you good luck, and he will heal your Pokémon when talked to again, but you see another 2 shady characters in strange uniforms. They are obviously hostile when interacted to, yet you cannot do anything else. Proceed onto the first route of this game.
Return to Susie and turn right this time to enter the gate... but suddenly someone screams your name loudly and rushes to you in a hurry! It is Jake, and he apparently got something really urgent that he must call you back home right now! What just happened?
Later...