Chapter 11 — The Capital
Anthian City - Housing District
Once you arrive in Anthian City, the first thing you'll see is the Housing District. This is where players can buy apartments for themselves to live in. Jake and Tess head over to the next area immediately, but you can stay around for some exploration first.
Apartments
There are 3 apartment buildings, which each have 3 layout choices and different colors for each layout.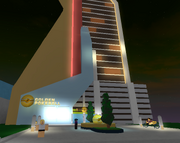 The first one is the Golden Poké Ball. This is the most luxurious apartment complex in the city, containing a huge modern lobby and a pretty fountain in front of it. It also has an arcade, where you win Tix from 4 different games. To see more, go to Golden Poké Ball Arcade. 3 layouts are available here, with the most expensive one being the Elegance layout- an apartment with a beautiful view of a terrace in front of a huge glass window, and 2 floors with many different rooms- which costs 750,000. There are also two other layouts, the Whirl and the Verge, both being slightly cheaper yet nevertheless extremely expensive. To visit them individually, talk to the lobby manager behind the desk at the lobby.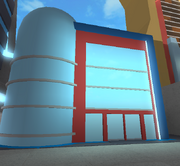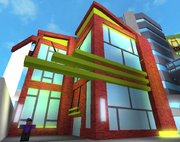 The last apartment complex is Anthian Abodes, the moderately-priced one. The apartments here are good for players who want a pretty, comfortable apartment but don't want to spend a lot of money on one. Another place in the Housing District is the Museum, even though it's not a place to live. In here you can just look at and admire the artifacts and art of the city.
Anthian City - Shopping District
Beyond the housing district, the staircases lead up to 2 large doors. Approching them will automatically bring you into the Shopping District, which contains many shops- some of them include the Pokeball Emporium, Rorian Braviary, Anthian Furniture, and Zombie's Painting and Hardware. You can visit each one of them, for example, Rorian Braviary has a catolog where you can try on outfits but if you want to buy them it'll cost Robux - but most will require you to use in-game currency to buy items, like the Poké Ball Emporium or the furniture and paint shops.
Poké Ball Emporium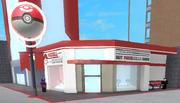 Hobo's Lucky Lotto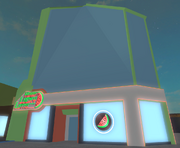 The Shopping District also includes a place where you can earn things instead of buying them - Hobo's Lucky Lotto! How it works is, daily, you are given a ticket with 5 numbers. If the set contains a number that is based on one of your Pokemons' IDs, you'll get a prize/item. If you have a Pokemon that has a Trainer ID with one of the number's that matches the number for that day, only the last 5 digits for your Pokemon's Trainer ID count. For example if the number is 12345 and your Pokemon's Trainer ID is ***12345, you'll get the 5 digit prize. For example; If your Pokemon's Trainer ID is ****2345, you'll get the 4 digit prize. However, if there are two prizes like Latiosite and Latiasite, you won't get both but instead, it'll be a coin toss to see which one you get. If you get **123450, it means a total loss. If you want a higher chance to win better prizes, it is recommended you trade a lot, so you can get many different Trainer IDs. If you aren't satisfied with what you received, you can buy more tickets with Robux- 15 Robux for 3 lottery tickets.
It's Important to remember: All pokemon you catch (except starters) have same ID's!
for example,your id was 12123801. Then all pokemon you catch will have ID:12123801
New Sushi Stick
Stone Shop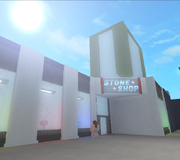 Decorate Your Apartment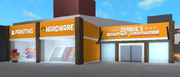 Zombie's Painting & Hardware and Anthian Furniture are the places you buy from if you want to decorate your Apartment. Zombie's Paniting & Hardware, allows you to mix your own custom colours using the Colour Wheel, HSV, RGB and Hexadecimal. You can also get Hardware here like Hardwood Planks. The shop is run by developer, Zombie7737. Anthian Furniture is run by developers, MySixthSense, Brie_Bee and Johnlitt with MySixthSense owning the shop and Brie_Bee and Johnlitt co-owning it. Here you can find a variety of different themes of furniture and others to decorate your apartment. Brie wil occasionally sell Event Furniture as well, the first time of this happening was for Halloween where Halloween Furniture was up for sale.
Hoverboards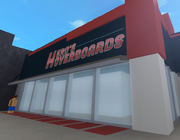 Before you leave, check out one last shop- Hero's Hoverboards, which sells hoverboards, the fastest travel yet. The average ones are free, but the other ones cost Robux, though they are faster and have cool designs. When you are ready, head to the one of the other districts! There is nothing exciting to do there, however, except for the Battle District, where you will face the fourth gym!
Community content is available under
CC-BY-SA
unless otherwise noted.