Chapter 3 — Arc Badge
Route 2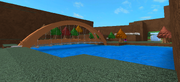 After retrieving the Bronze Brick necklace from Linda, healing your Pokémon and selling the Nugget you just got to restock on supplies, it is finally time for you to move on. You will notice upon entering Route 2 that there is a rival channel leading to somewhere deeper in. There is nothing you can do about it until the point you acquire a Fishing Rod, as well as HM3 Surf much later in game. After passing the bridge, there is a rocky slope to your left with a Rising Star talking about field moves. These rocks can be later accessed via HM8 Rock Climb, which is given to you later in the game after beating Gym Leader Fissy at Fluoruma Gym.
After defeating Jessie, backtrack to Cheshma Town, heal your Pokémon at the Pokémon Centre, then proceed past her to a green gate for the next route. A Black Belt tells you that all of his Pokémon are paralyzed, hinting on what Pokémon live on Route 3.
Later......
Route 3
Heal your Pokémon before proceeding. Student Chase is ready to battle you shortly after you set foot on Route 3, and he tells you that Electric-type Pokémon inhabit this route. Just opposite to Chase, a fence with patches of tall grass hides a bottle of Paralyze Heal, which is the cure for paralysis as its name states.
Time to have a look at what the grass patches offer. Both Mareep and Shinx are pure Elec-type Pokémon in 3-stage evolutionary lines, evolving into Flaaffy and Luxio at Lv. 15, then once more into Ampharos and Luxray respectively at Lv. 30. The difference is that the Mareep family has higher Special Attack, while the Shinx evolution line has better Physical Attack, so the former should use Special moves like Discharge, while the latter ought to use Physical moves such as Spark.
Electrike is another pure Electric-type Pokémon here, evolving into Manectric at Lv. 26. It also has higher Sp. Atk, but cannot learn Thunder Shock, so it may struggle with its Physical moves until it finally triggers evolution. Manectric learns Discharge 10 levels earlier than Ampharos does though. Pachirisu is the final Elec-type Pokémon here and also the rarest Pokémon on this route with 3.8% encounter rate. It has no evolution and its offensive stats are below average though.
Later......
This route is affected by a Special Magnetic Field as well. Certain Pokémon will require levelling up here to evolve. They are Magneton, Nosepass and Charjabug, evolving into Magnezone, Probopass and Vikavolt respectively. It could be rather time-consuming for them to level up here given that you obtain them much later. A trick is to rack up their EXP on other places until they almost gain a level, then bring them here for the remaining EXP.
Silvent City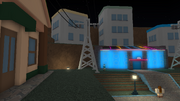 The end of Route 3 is Silvent City. After you have reached the city, quickly go up the stairs to the Pokémon Centre and heal your Pokémon. This is the first major city you will go through in your adventure. The city is very beautiful at night with lights from the buildings. The 1st Gym is already visible when you arrive in Silvent City, but first, there are some secrets waiting for you to encounter. Begin by picking up a Dusk Ball around the Pokémon Centre. Dusk Ball has the greatest effectiveness overnight or in caves.
Trick Room House 
The house next to the Pokémon Centre contains TM92 Trick Room. But to get it, you have to find a way to get to a secret room. The room is hidden above a set of shelves to the right. Climb on it and you will find a hidden passage behind the wall, extending to the hidden area with Trick Room.
Eevee House
Catching Porygon
Silvent Gym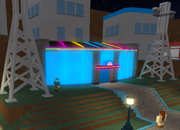 Make sure that you heal your Pokémon before proceeding! It is recommended that you train your Pokémon until they are at Lv. 12 or higher.
Enter the big building with neon lights once you are ready. It is the Silvent Gym which is designed as a disco. It is now time to have your first Gym Battle! The Gym Guide tells you that the Gym specializes in Electric-type Pokémon, and to reach the Gym Leader, you need to make your way through some dancing pads. Remember what Enthusiast Tiffany said? Keep Water and Flying Pokémon off this Gym, otherwise, they are getting pulverized here. Electric-type Pokémon only has a weakness to Ground, but you probably do not have any Ground-type Pokémon except Nincada, which does not learn useful Ground-type attacks at this stage anyway, so just go with brute force.
VS Chad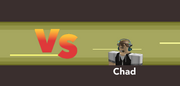 Once Chad is defeated, he awards you with the first Gym Badge in Roria — Arc Badge! He also gives you TM57 Charge Beam, and tells you how TMs are excellent in making your Pokémon stronger. Chad also notifies you that Arc Badge enables the use of HM1 Cut outside of battle and allows you to trade for Pokémon up to Lv. 30.