Chapter 8 — Float Badge
Rosecove Gym
Make sure that you heal your Pokémon before proceeding! It is recommended that you train your Pokémon until they are at Lv. 35 or higher.
Once you return from defeating Team Eclipse at Rosecove Beach, Rosecove Gym will now be accessible. Enter the building which is right of the Pokémon Centre. When you are ready to take on your 3rd gym, enter the building. The gym is designed to resemble many miniature boat docks. This gym specializes in Water-type Pokémon. If you wish to talk to the gym guide, he will tell you that the goal of the gym is to arrange the many pipe blocks in each puzzle to allow the water to flow from the faucets to the generators. Each time you solve one of these pipe puzzles the generator will power on the water control chambers' to release enough water that you are able to continue throughout the gym. Water-type Pokémon are weak to Electric, and Grass. Many numerous Electric-type Pokémon can be found on Route 3 just before Silvent City and are great to use for this gym. Oddish and Weepinbell, two good Grass-type Pokémon can be found on Route 8 just before Rosecove City. These two are good to choose because they are quite effective against Water-type Pokémon and are also quite common to find.
VS Quentin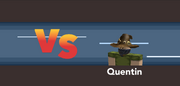 3rd Rival Battle
Route 9
If you wish to walk to Route 10 first, you will see a greenhouse building on your left-hand side, if you entered it and talk to the woman, she will say that she would like to see all five variants of Flabébé and she will give you the most beautiful flower in her garden, the Gracidea, to you, which will enable a special encounter somewhere...