Cragonos Spring is a rocky and uneven ravine that is accessible by using HM3 Surf on the body of water located in Cragonos Mines. The canyon has a luminescent bright blue spring that the player can surf on to find a special Pokémon on Monday. Numerous shining crystals are found strewed along the gorge walls.
Notable Event
Encountering Lapras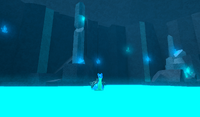 Cragonos Spring features a long water channel leading deep inside. Initially, it appears that nothing new is found here other than Clauncher when surfing, but there was a rumour that a special Pokémon would appear here on a certain day of the week. Later on, it was revealed to be Lapras, which waits for the player every Monday in the deepest section of Cragonos Spring, referencing its encounter in Union Cave, Johto.
As Lapras is rather hard to catch, players are recommended to stock up on Dusk or Net Balls from the Poké Ball Emporium, Anthian City - Shopping District before coming to battle and catch Lapras. Players are also warned that Lapras possesses Perish Song, which when used, will render itself and the player's Pokémon sent out unable to battle in 3 turns, so players are strongly advised to save beforehand, turn off Autosave and catch Lapras as fast as possible. Throwing a Quick Ball immediately at the beginning of the battle is a good idea, while using the move Taunt is a good counter for Perish Song, as it disables all Status moves for a few turns.
Pokémon
Wild Pokémon
Note: Rarity levels are estimations according to this scale and might be subject to changes due to different encounter assessment results, unless supported by official encounter rates, which are listed in red under the rarity level if known. If there are any Pokémon with low catch rates, the possibility to flee or requirement of gaining happiness to evolve, recommended Poké Balls for that Pokémon will be shown with the corresponding bag sprite under the Pokémon's name.
Pokémon
Type
Image
Rarity
Items
EV Yield
Walking
Cave
Lv. 21-24
Geodude
Kanto Form

Rock




Ground

Common
1 Def

Roggenrola

Rock

Common
1 Def

Meditite

Fighting




Psychic

Uncommon
None
1 Speed
Diglett
Kanto Form

Ground

Uncommon
1 Speed
Woobat


Psychic




Flying

Rare
None
1 Speed
Drilbur

Ground

Rare
None
1 Atk

Onix


Rock




Ground

Rare
None
1 Def

Larvitar


Rock




Ground

Very Rare
5%
None
1 Atk

Fishing
Old Rod
Lv. 10
Magikarp

Water

Common
None
1 Speed
Goldeen

Water

Uncommon
1 Atk

Chinchou

Water




Electric

Rare
6%
1 HP

Fishing
Good Rod
Lv. 20
Magikarp

Water

Common
None
1 Speed
Goldeen

Water

Uncommon
1 Atk

Chinchou

Water




Electric

Rare
17%
1 HP

Water
Surf
Lv. 30-36
Goldeen

Water

Common
1 Atk

Magikarp

Water

Uncommon
None
1 Speed
Tentacool

Water




Poison

Rare
1 Sp. Def

Clauncher

Water

Very Rare
3.2%
None
1 Sp. Atk

Special
Spring Water
Lv. 40
Lapras


Water




Ice

Every Monday

2 HP

Click on the Pokémon names to check their learnsets on Bulbapedia. All Pokémon follow their movesets in Pokémon Sun and Moon. Hover on the item sprites to check the exact chance of being held by the Wild Pokémon. All information above only applies to the Normal Adventure Mode.

Roaming Pokémon are not listed in the table above. They are fixed at Lv. 40 and have a 0.1% chance of appearing anywhere in Roria with wild encounter methods specified here.
Trivia
The crystals scattered across the cave walls deeply resemble the ones in Glistening Grotto and Route 13, except with a less colourful scheme.
Lapras' encounter is nearly identical to how it is found in the deepest room of Union Cave, Johto in Pokémon Gold, Silver, Crystal, Heart Gold and Soul Silver, except that its battle was available every Friday in Union Cave instead of Monday.
Community content is available under
CC-BY-SA
unless otherwise noted.