What are Lagoona Trenches?
Play Sound
Lagoona Trenches are where underwater mining takes place. Located at the bottom of Lagoona Lake, this place is only accessible from the Underwater Mining Vessel in Lagoona Research Lab. Players can find a vast and varied amount of items hidden deep within undersea rocks. These treasures consist of fossils, Evolutionary Stones, and other rare commodities, such as Heart Scales, Rare Bones and Odd Keystones.
Underwater Mining Vessel
The Underwater Mining Vessel is a small, yellow submarine that the player must operate in order to access the Lagoona Trenches. Talk to the blonde female scientist in the centre of Lagoona Lab and use an UMV Battery in order to activate the UMV and dive underwater. The first time player arrives in Lagoona Lab, the blonde scientist will offer the player a free UMV Battery. When underwater, the right bar indicates the battery status of UMV Submarine. Driving around and mining causes the battery to deplete, and when the bar is empty, the player surfaces and is sent back to the Lagoona Lab. If the player has run out of batteries, he or she will either have to win UMV Batteries from Hobo's Lucky Lotto as a prize, or buy more with Robux from the same blonde scientist in the following packs:
| Batteries | Selling Price (Robux) | Price per battery | Discount |
| --- | --- | --- | --- |
| 1 | 5 | 5 | None |
| 3 | 11 | Approximately 3.67 | Appr. 27% off |
| 6 | 18 | 3 | 40% off |
Note: The player is required to save before mining. This is to prevent players from using the free battery from trying again and again to get the items they want. If the game unfortunately crashes or is suddenly disconnected, the player cannot try again.
Mining
The mining process is nearly identical to Sinnoh Underground in the core series games Pokémon Diamond, Pearl and Platinum, only with hammer switched for dynamites, and the pick changed to a drill. Find and click on sparkling parts of the wall to start mining. Like in real games, if the wall sustains too much damage before treasures are all dug out, it will collapse, destroying all treasures that are not retrieved in time. There is a green bar on the top to show how much damage the wall has sustained, and the player must dig out as many items as possible before the bar fills up.
Each time the player digs, the number of items ranges between 1 to 4 inclusively. The treasures are also similar to those in Sinnoh Underground, meaning that Fossils, Shards, Plates, certain kinds of Evolutionary Stones and some rare items can be excavated, but with the following changes:
The 4 fossils found in Unova and Kalos are also added.
All kinds of spheres are removed.
The Pixie Plate is added.
New Fossilized Eggs are added. They yield unique and rare Pokémon, including the Legendary Lake Guardians.
Treasures
Fossil Pokémon
Certain ancient Pokémon Fossils can be excavated within undersea rocks. Take these Fossils to the back of Lagoona Lab, and talk to the male scientist near the Fossil Revival machine to reap the benefits of player's spoils. They are automatically set to Lv. 10 upon revival. These fossils can also be traded to other Pokémon trainers when given to a Pokémon to hold.
Fossilized Eggs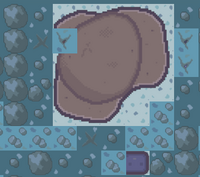 Different from normal fossils, these Pokémon are hatched from revived Fossilized Eggs found in underwater mining. The Fossilized Eggs are unique to this game. They are stored in the player's party or PC instead of his or her bag. The resurrection process is similar to other fossils — the player must take the Fossilized Eggs to the back of Lagoona Lake Lab and talk to the male scientist for revival. Note that soft resetting does not alter the result. Obtained from Fossilized Eggs, the "Lake Guardians" Uxie, Mespirit and Azelf are the only Legendary Pokémon available in eggs.
Treasure
Rate
Egg
Pokémon

Fossilized Egg
85%
→

Togepi


Fairy

5%
→

Mesprit


Psychic

5%
→

Azelf


Psychic

5%
→

Uxie


Psychic
Evolutionary Stones
Also found underwater are various Evolutionary Stones that can be used on specific Pokémon to help them evolve. With the exception of Oval Stone, all stones listed below are directly used on Pokémon to trigger evolution.
| Stone | Image | Compatible Pokémon |
| --- | --- | --- |
| Fire Stone | | |
| Water Stone | | |
| Thunder Stone | | |
| Leaf Stone | | |
| Sun Stone | | |
| Moon Stone | | |
| Oval Stone | | |
Other Treasures
There are a handful of other items that can be dug out via underwater mining. The rarity of these spoils varies.
Item
Image
Usage
Rarity
Revive

Restores a fainted Pokémon's health by half upon usage.
Rare
Max Revive

Completely restores a fainted Pokémon's health upon usage.
Very Rare
Everstone

Prevents all kinds of evolution once held.
If held by either parent in Lagoona Day Care, holder's nature will be passed down to the bred Pokémon.
Uncommon
Plates
Increase the damage of attacks from the corresponding type by 20% if held.
Rare
Light Clay

Extend the effect of Reflect, Light Screen and Aurora Veil by 3 more turns once held, if not broken by Brick Break or blown away by Defog.
Uncommon
Star Piece

Sell for 4900 dollars.
Rare
Rare Bone

Sell for 5000 dollars.
Rare
Shards
N/A (Possible for paying Move Tutors later on)
Common
Iron Ball

Reduces speed when held and, if the holder belongs to Flying-type or has the ability Levitate, eliminates immunity to Ground-type attacks. When thrown by the move Fling, this item causes the most damage.
Uncommon
Heart Scale

Pay the Move Reminder in Colosseum Marketplace for remembering forgotten moves.
Very Rare
Hard Stone

Increases the damage of Rock-type attacks by 20% when held.
Common
Heat / Damp / Icy / Smooth Rock
Extend the duration of corresponding weather moves and abilities by 3 more turns when held. For example, Heat Rock extends the effect of Sunny Day and ability Drought to 8 turns.
Rare
Odd Keystone

Throw into the Old Well on Route 8 to summon the Pokémon Spiritomb.
Very Rare
Trivia
As surprising as it may seem, Pokémon Eggs can actually be hatched underwater.
Some underwater treasures are very rare and have a very high value to other trainers, who might be willing to trade for them in Trade Resort.
The music in Lagoona Trenches is based on Through the Sea of Time from the side series game Pokémon Mystery Dungeon: Explorers of Time, Darkness & Sky. This remix theme is made by famous music remix creator GlitchxCity.
Community content is available under
CC-BY-SA
unless otherwise noted.